We're often filled with gratitude, but don't know how to show it. During the later months of the year, we're reminded that we should start finding tangible ways to say "thank you". For friends and family, we can gather around the dinner table, give affection, and exchange gifts. However, the reality is much different for expressing gratitude to our clients or colleagues. The benefits of gratitude for business are endless, but how can we stay professional while being sincere?
It's time to take a step into the past, and ironically, the future. Sending classic handwritten thank-you card messages is a great way to build relationships and loyalty. Robot-handwritten thank-you cards are even better.
In this guide by Handwrytten, you'll get 10 simple thank-you card messages for any occasion.
A -You Is Always a Good Idea
Why send thank-you cards? The answer is simple: too often nowadays we accept peoples' time and effort without much more than a smile. Expressing gratitude, however, is a crucial step to showing that you care and would love to continue that relationship.
Businesses are now sending automated "thank you" messages, such as after a purchase or a huge customer milestone, but that's not enough. Many other occasions, ones which would be more personal and effective, are left without a second thought. Further, these quick thank-you messages through an email or text are impersonal and overdone.
Sending a handwritten greeting card brings a human element to your business. Instead of being a machine that churns out products and services, you can be a present and thoughtful business owner who truly appreciates each customer. Bringing that emotional element to your company will make a world of difference.
Handwritten messages like eCommerce thank-you cards will do wonders in building rapport with customers and clients. They'll feel extremely special and have a better impression of your company due to such a personal and unique gesture.
Many businesses don't go the extra mile to show gratitude to new and long-term customers, but they're missing out on major opportunities for client communication.
10 -You for Any
There are countless occasions on which to say "thank you" to clients and customers outside of the typical after-purchase note. Many businesses don't go the extra mile to show gratitude to new and long-term customers, but they're missing out on major opportunities for client communication.
Some occasions on which to send a thank-you card are:
After a customer or client has attended your business-sponsored event

When you notice a customer or client sharing your business with others

For great reviews left by satisfied customers and clients

For feedback and criticism left by customers and clients that help your business mature and improve
Here are some thank-you message examples for you to "steal" as you start showing more gratitude in your business!
1.

You

for Celebrating With Us!
If you celebrate occasions such as anniversaries, holidays, or landmark accomplishments with a sale or special event, thank the customers who supported you on that day:
Dear [First Name],
We're so happy to have such supportive customers who are willing to share in our celebration with us. We wanted to send a quick note of gratitude because the day would not have been the same without you.
Thank you, and we hope to see you again soon!
[Company/Your Name]
2.

You

for Including Us in Your Life Every Day
Repeat sales or appointments means that the person trusts you and wants to support you. Don't let that special relationship slip away.
Dear [First Name],
Don't think we didn't notice! We are truly honored that you've come back time and time again. Your continued support means so much to us, so we wanted to return the favor with a quick thank you!
Best,
[Company/Your Name]
3.

You

for Sharing Us With Your Friends!
When clients and customers love your services and products, they tell their friends and families. If you notice your customers spreading the word about your business, be sure to thank them personally!
Dear [First Name],
We really appreciate that you've taken the time to share your experience with us, with your friends. Enjoy this gift as a thank you!
Best Wishes,
[Company/Your Name]
4.

You

for Letting Us Know
Not all customer experiences are great. To bounce back from a less-than-satisfactory experience, send a thank-you for the feedback.
Dear [First Name],
It was thoughtful of you to send us feedback and let us know exactly how we can improve. Not everyone takes the time to help us get better, so we wanted to sincerely thank you. Please let us know how else we can help!
Sincerely,
[Company/Your Name]
5.

You

for Reviewing Us!
If a happy customer has taken a few minutes out of their day to leave a review, that's amazing. Show gratitude with a thank-you note.
Dear [First Name],
Thank you so much for taking the time to share a review! We appreciate every minute taken out of your day to support us and help others find us. We're so glad you've had a great experience. Please take this gift as a thank-you!
All the best,
[Company/Your Name]
6. A Special -You
Nothing brightens your day quite like a surprise birthday message, especially if it comes in the form of a gift card or coupon! Never miss an opportunity to wish your customers a happy birthday.
Dear [First Name],
On your birthday, we wanted to reach out to thank you for your continued patronage. We love having you around for another year, so enjoy your next coffee on us!
With pleasure,
[Company/Your Name]
7. Just Because -You
If you feel your business is falling into a lull, it might be time to reach out to past customers. Try a thank-you message out of the blue, even if it's a little humorous to catch attention.
Dear [First Name],
We wanted to thank you — Not for any particular reason, but just because we appreciate you. Thanks for being our customer!
All the best,
[Company/Your Name]
8.

You

for Years of Loyalty!
Have customers you consider truly loyal and important? Send them an extra-special thank-you note.
Dear [First Name],
You're the creme de la creme. Our top priority. The cherry on top. Thanks so much for continuing to support us for all these years!
Sincerely,
[Company/Your Name]
9. Thanks for Giving Us a Try!
If you have customers who buy from you once and you don't hear back, try reminding them with a follow-up note. A quick thank you note will bring you to mind.
Dear [First Name],
We haven't heard from you in a while, so we just wanted to reach out. Thanks so much for giving us a try. If there's anything we can help you with, feel free to reach out. We hope to see you again soon!
Best,
[Company/Your Name]
10. A General -You
Sometimes you just need a really basic thank-you message. Try sending this:
Dear [First Name],
Hey there! We wanted to thank you so much for your support. As always, our door is always open if you need anything. We hope to see you again soon.
Yours truly,
[Company/Your Name]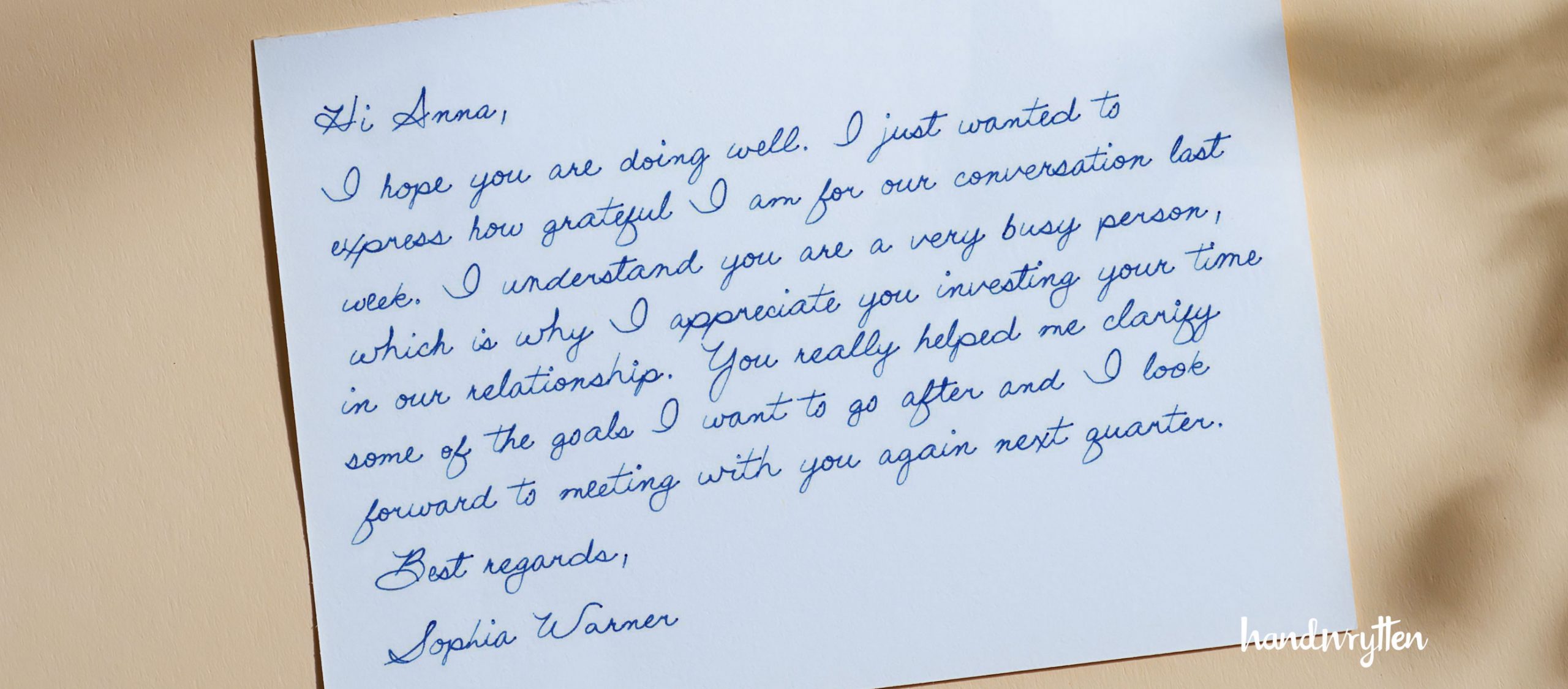 Other Ways to Say '

You

'
A handwritten thank-you card is a simple yet powerful way to emotionally connect with your clients and writers. At the same, time, you can always do more. There are so many ways to take your thank-you message to the next level.
Adding a
Adding a gift card surprise inside your thank-you card is a huge plus. It turns those words of gratitude into a tangible gift. It goes above and beyond the call of duty, especially if that gift card isn't to your own store.
If you'd like to add a gift card, Handwrytten can do that for you. Handwrytten has a huge selection of gift cards you can add to your messages, ranging from Starbucks to the Cheesecake Factory.
Wondering how to mention a gift card in a thank you card? Depending on the type of business you run, you can be quirky or sincere.
For a casual note, say something like, "Enjoy your morning mug on us!" For a formal note, you could say, "Here's your next dinner on us as a warm thank-you."
Custom Inserts
Still finding yourself wondering what are some good thank-you gifts other than flowers? Handwrytten allows you to insert more than just gift cards. If you'd like to supply us with anything that can fit in a card, just send it to us!
The only limitations are that the insert needs to be lightweight and fit inside a 5×7 envelope. Within these parameters, you can get creative.
Would your customer appreciate a branded laptop sticker? Would they be thankful that you replaced a few of the stamps they've spent on sending you mail? How about business cards with a note to your customers, saying they can call you at any time?
You know your business and audience best, so take some time to think up the perfect thank-you gesture.
Check Out Handwrytten's Collection of -You Cards
What card designs and services are available at Handwrytten for those sending thank-you cards? Most cards in our collection go for $3.25 per card!
Of course, thank-you cards are a huge section of this collection! Handwrytten provides elegant and modern styles as well as fun and seasonal looks. Whether you're looking for very basic cards or themed cards, we have something for you. If all else fails, design custom greeting cards online.
Show  With Handwrytten Cards
Nothing says you truly care quite like handwritten, personalized cards. Even better, thank you card messages with a gift card or magnet will put customer loyalty over the top. We hope these thank-you card templates and tips have helped you get started on improving your client and customer relations!
Handwrytten takes the time and effort out of sending handwritten messages to tons of customers. With robot hands and state-of-the-art software that mimics real handwriting, your customers will be astounded with your generosity!
Get started by requesting a free writing sample.